Annual Membership Investment
1-5 Employees $300
6-10 Employees $325
11-20 Employees $350
21-30 Employees $375
31-40 Employees $400
41-50 Employees $425
51-60 Employees $450
61-70 Employees $475
71-80 Employees $550
81-90 Employees $575
91-100 Employees $600
101-150 Employees $650
151-200 Employees $750
201-250 Employees $850
251-300 Employees $950
301+ Employees $1050
The Jackson County Area Chamber of Commerce is a member driven non-profit organization that serves as the voice of the business community. Investing in the chamber is investing in the community. The chamber exists to promote business success and enhance quality of life by being the leader in economic, community and small business development. We exist to create value for our members through a variety of programs, events, networking opportunities and other services.
Member Services
The Chamber serves its members through a locally staffed office at 270 Athens Street in Jefferson, Georgia.  The Chamber is your strongest supporter of Economic Development in Jackson County, and we offer opportunities for you to support county growth and economic development.  Through your membership, the chamber provides many services to support your organization.
The Chamber serves as the liaison to provide education and training to its members about keeping your workplace certified drug free and saving your company up to 7.5% on workers compensation premiums.  All the materials you need to implement this plan are provided by the chamber and quarterly training courses are also provided.
Communication
The chamber serves as the pulse of the Jackson County business community and provides a consolidated source of information about upcoming events, critical business information and relevant community news. Through our consolidated community calendar, weekly electronic newsletter (Newsday Tuesday) chamber mailings and periodic email updates, our members are always well informed.
Networking and Involvement Opportunities
We all want to do business with people we like, respect and trust.  Networking with other businesses provides a wonderful opportunity to make connections and expand your reach.  The chamber routinely hosts networking opportunities with our monthly breakfast meetings, Women in Business luncheons, Business and Social Hours (BASH), and many other chamber events.
The Chamber is responsible for organizing key business community and networking events including but not limited to the following:
Awards Banquet (annual)
Business & Breakfast (monthly)
Small Business Lunch & Learn (monthly)
Women in Business (monthly)
Business and Social Hour (BASH) (bi-monthly)
Jackson Derby (annual)
Jackson Chamber Classic Golf Tournament (annual)
Partners in Education Workshop (PIE) (annual)
Hometown Hero Appreciation Luncheon (annual)
Star Student and Teacher of the Year (annual)
Woman of the Year Luncheon (annual)
These events allow us to highlight our businesses and their surrounding communities, to elevate the chamber's presence in the overall Georgia business community and provide unique opportunities to honor and network with our membership.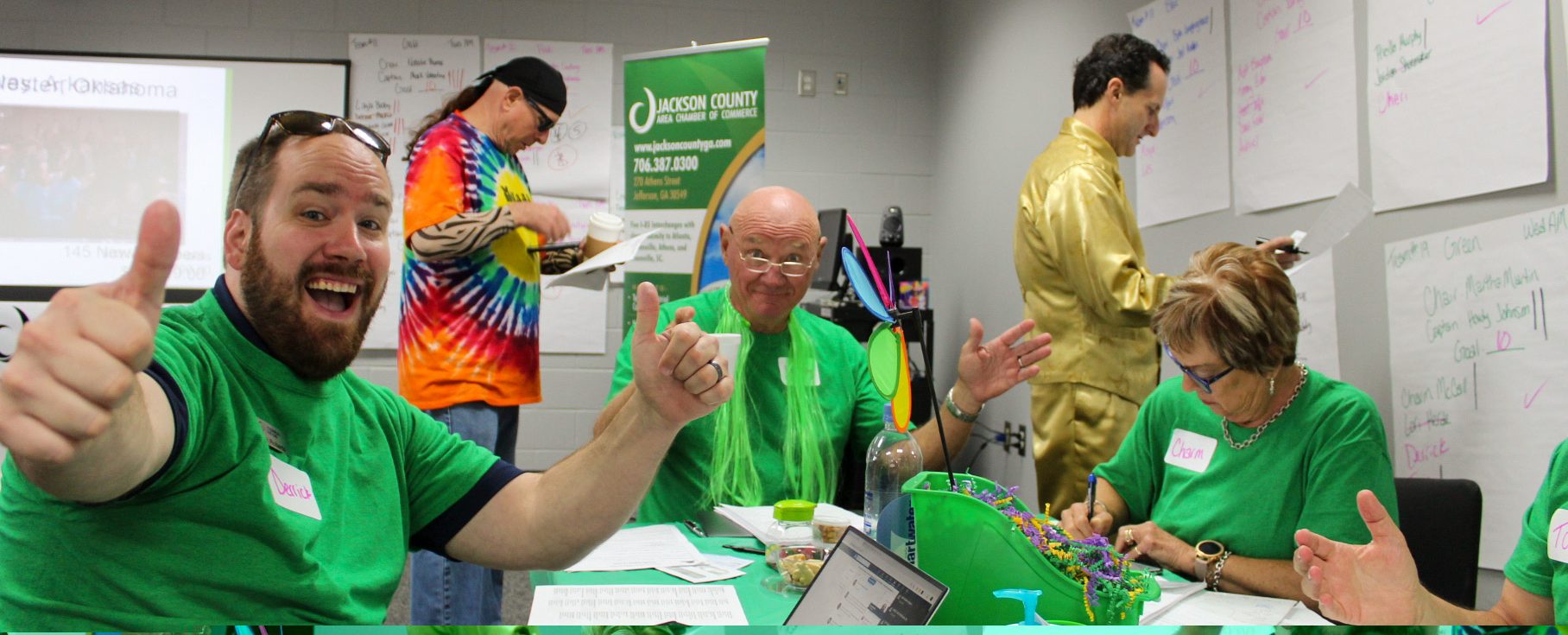 Marketing Opportunities
Use the chamber as a marketing tool.  As a member you have access to a variety of ways to market your organization. Post member news and job postings on our chamber website, through your member profile.
As a member, your organization is included on the chamber's website, which is great exposure.  Anyone can access our member directory on our website.  Members are listed online by category of business so those visiting the directory can easily find the products and services they need.  All the member contact information can be listed in the online directory.
Professional Development
It is important for business professionals to continue to develop as innovative leaders in their respective industries and the community.  The chamber offers continuing education, professional development, and volunteer opportunities.
Staying on top of the latest trends and advancements can be a daunting task for any business owner.  We offer education and training to our membership through a variety of workshops, seminars, forums, and roundtable discussions.
Small Business Development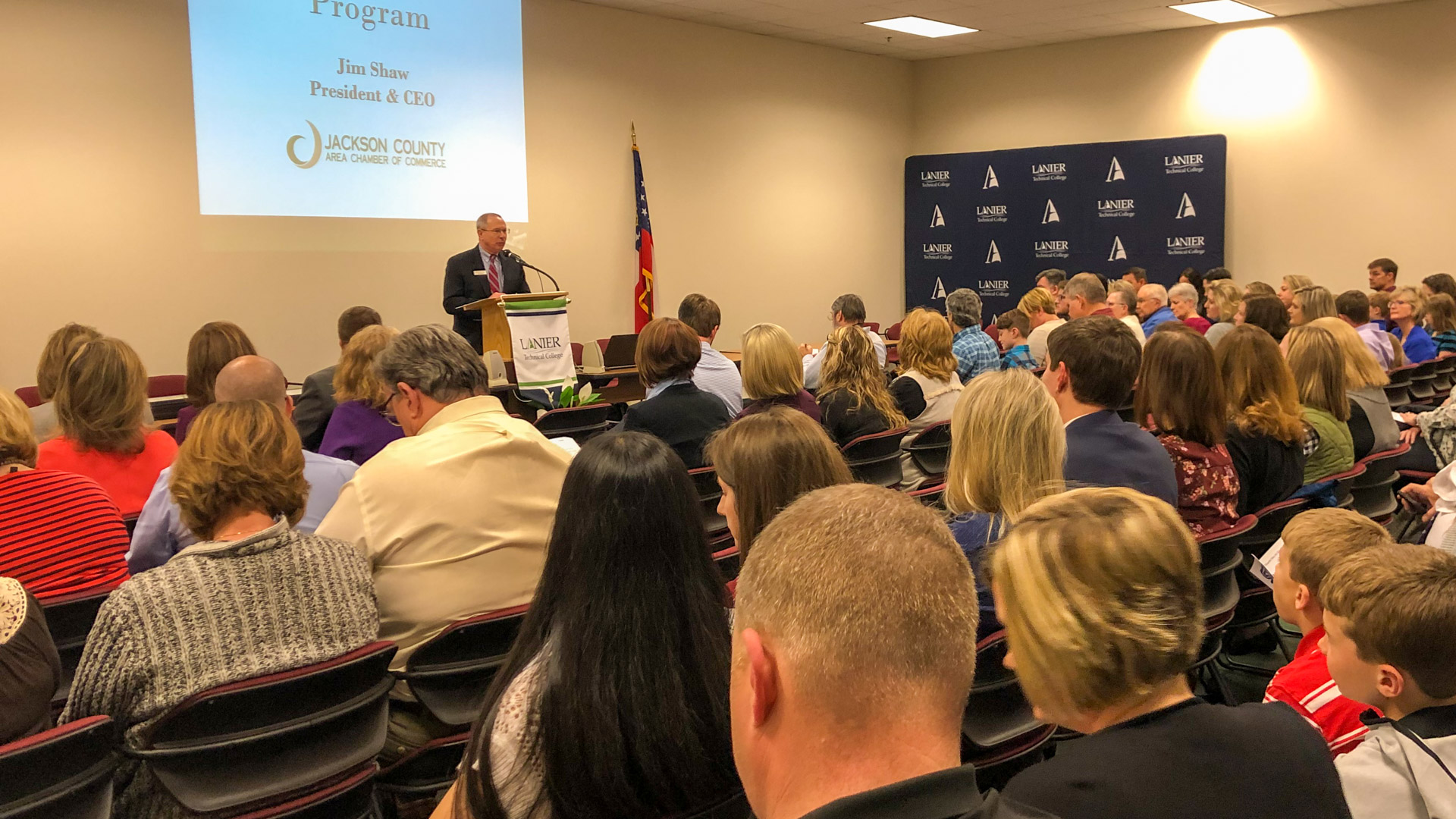 Educational Partnerships
Partners in Education - Having strong school systems is important to every community. Supporting the local school systems is a great way to be involved in the chamber and the community.  With our Partners in Education (PIE) program, every business has the opportunity to be a partner in education. It is vital for the business community to support the school systems.  The PIE program is a great way to support the schools and show that your organization cares about the future of the community. The Chamber hosts the annual PIE Workshop, which joins the business community and schools for an event of networking and sharing best practices.  The Chamber also hosts the annual STAR Student & Teacher and Teacher of the Year Reception.
Education Committee – Participating on the Education Committee allows you to aide in creating and supporting the programs and activities that support the three school systems within Jackson County as they strive to prepare students to be college and career ready and to develop educated citizens.
Advertising and Sponsorship Opportunities
While optional, sponsorships are a great way to create brand awareness for your organization and support an environment where businesses can flourish. Companies that want to be recognized for being community partners and leaders will benefit from sponsoring events and programs.
The Chamber offers print and online advertising opportunities in the weekly Newsday Tuesday e-newsletter, Chambering Magazine and on the chamber website. These opportunities are available only to chamber members.